Regular price
€450,00 EUR
Regular price
€550,00 EUR
Sale price
€450,00 EUR
Unit price
per
Sale
Sold out
Elevate your home decor with our gorgeous multi-colored kilim rug, lovingly woven from 100% natural wool and displaying a stunning and unique combination of traditional Berber patterns and symbols.
This one-of-a-kind rug likely features the most diverse collection of symbols out of all the rugs in our collection. The hair bands, weaving combs, partridge eyes, lucky birds, burdocks, amulets, eyes, fishes, and diamonds, all symbolize different aspects of femininity, protection, prosperity, and elegance.
Its uniqueness comes from the fact that it was crafted by an incredibly skilled craftswoman from Algeria but based in Tunisian, merging inspirations from the Algerian Amazigh culture and Tunisian Berber culture, and making it a true representation of the region's rich heritage.
The rug's vibrant colors and intricate patterns make it a versatile piece that can fit into any decor style. Whether displayed in a living room, bedroom, or hallway, this kilim rug is sure to be a focal point, adding warmth, personality, and cultural significance to any space. Don't miss the opportunity to own this stunning piece of art and bring a touch of North African heritage into your home.

Materials

Wool rug hand-woven on a cotton base.

Non-reversible kilim.

All of our products are handcrafted, making each product unique.

Slight variations and imperfections can occur, but we strive to make truthful pictures which grasp the most of their original look.
Shipping & Returns

Shipping within 3 - 5 business days after the order placement.

Returns accepted and fully refunded (incl. shipping costs for EU) in original condition within 14 days after reception.
Dimensions

Length: 228 cm
Width: 134 cm
Care Instructions

Cleaning at regular intervals (sweeper is to be privileged)

Kilims are for indoor use, avoid prolonged exposure to direct sunlight

More details in our FAQ (for stains, shampooing, professional care…)
Share
View full details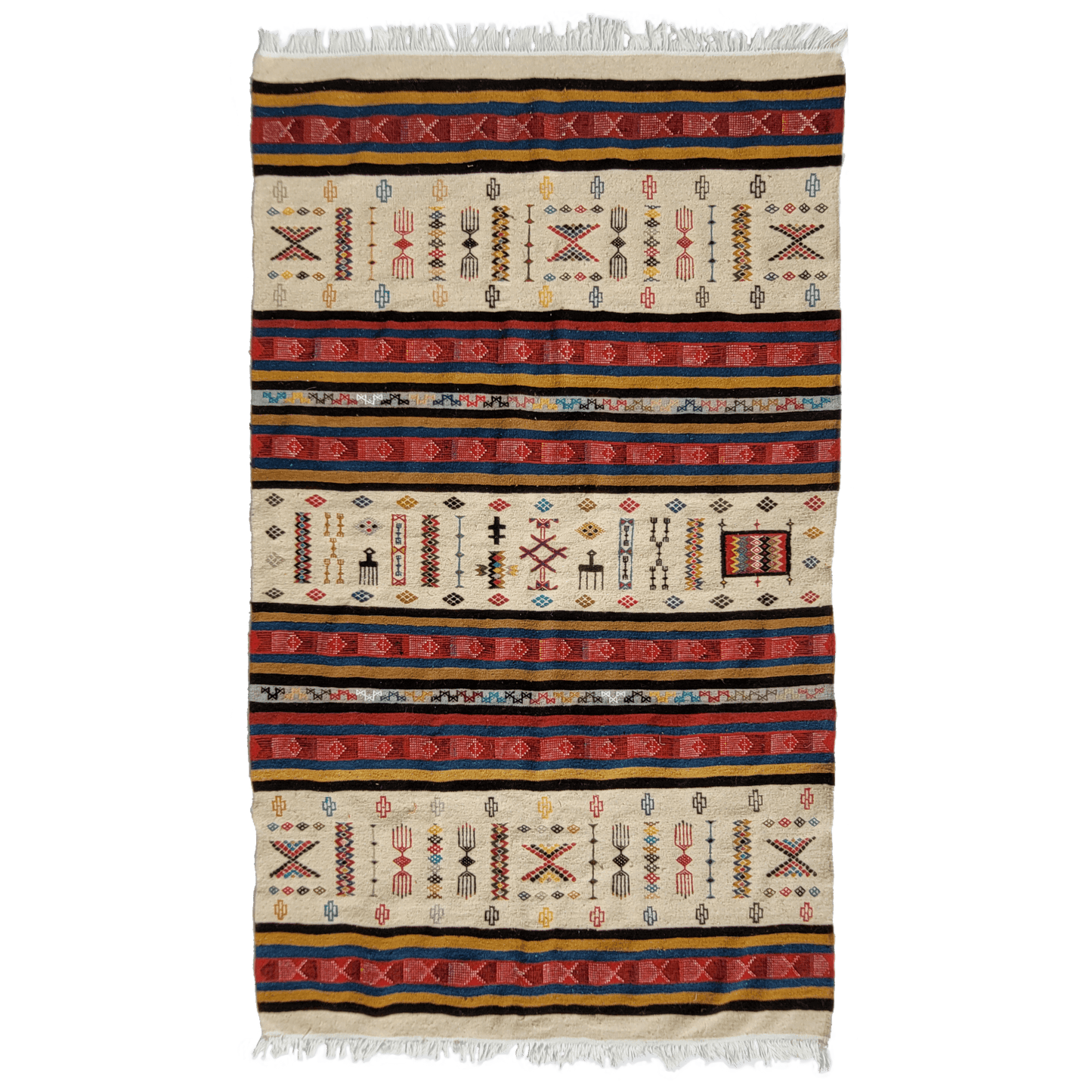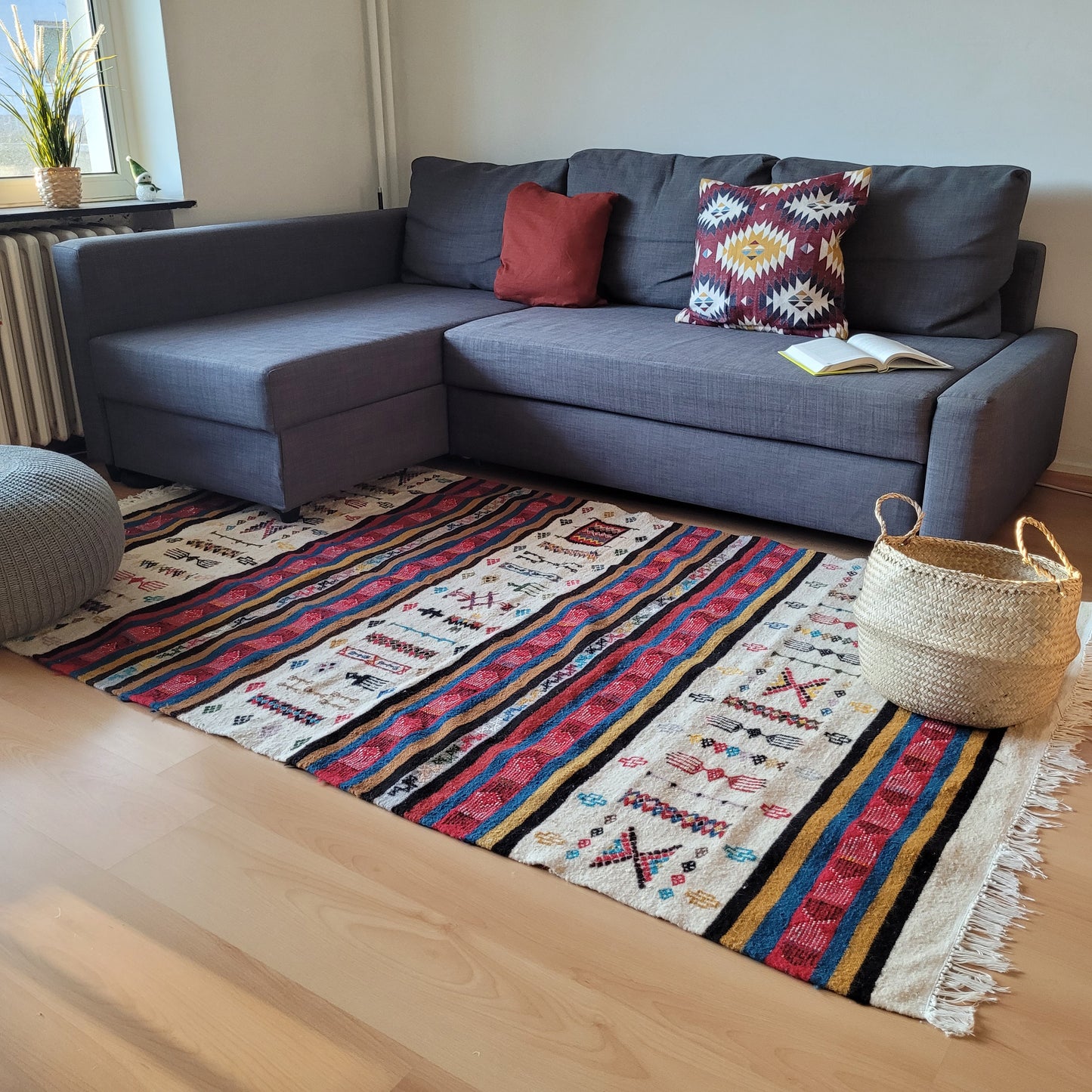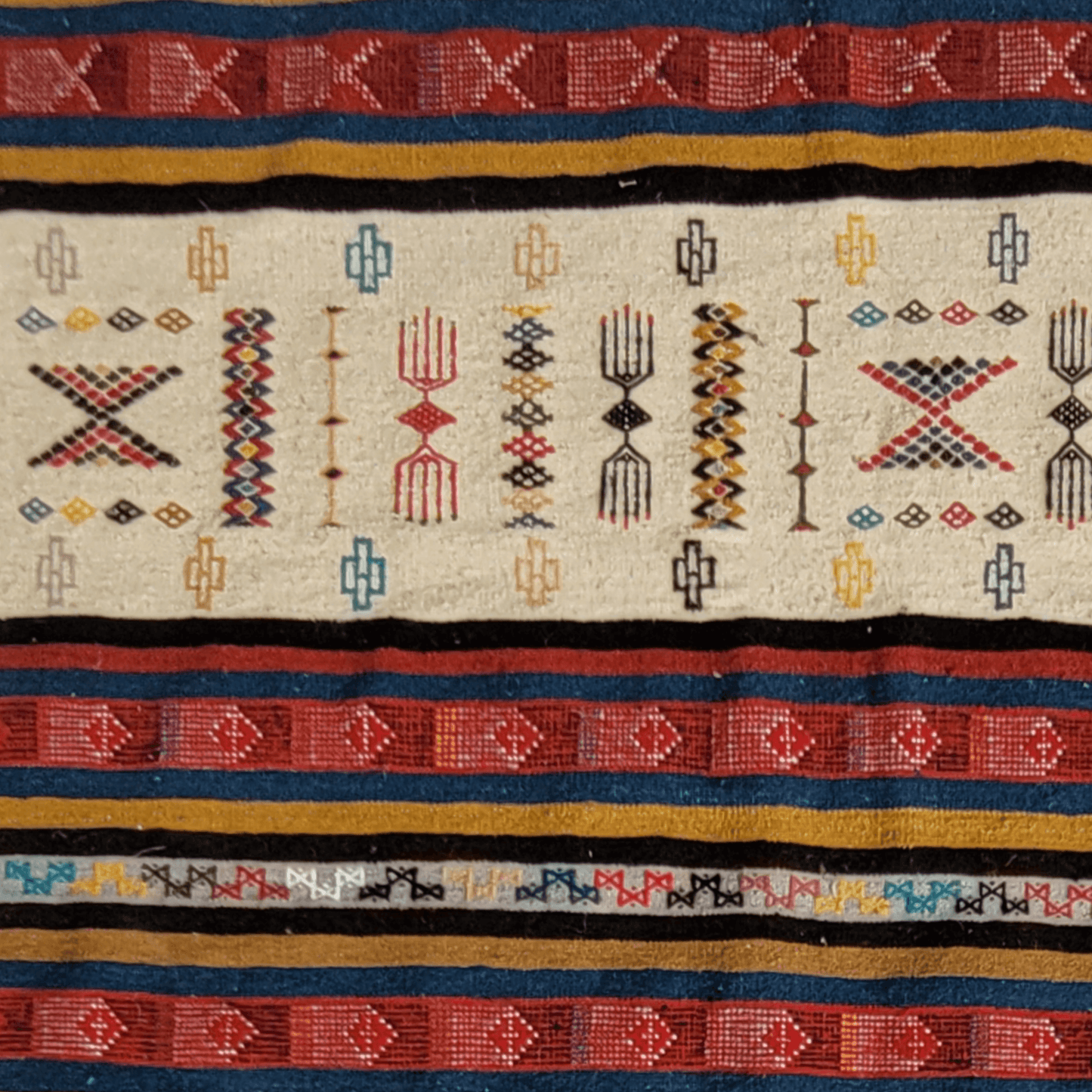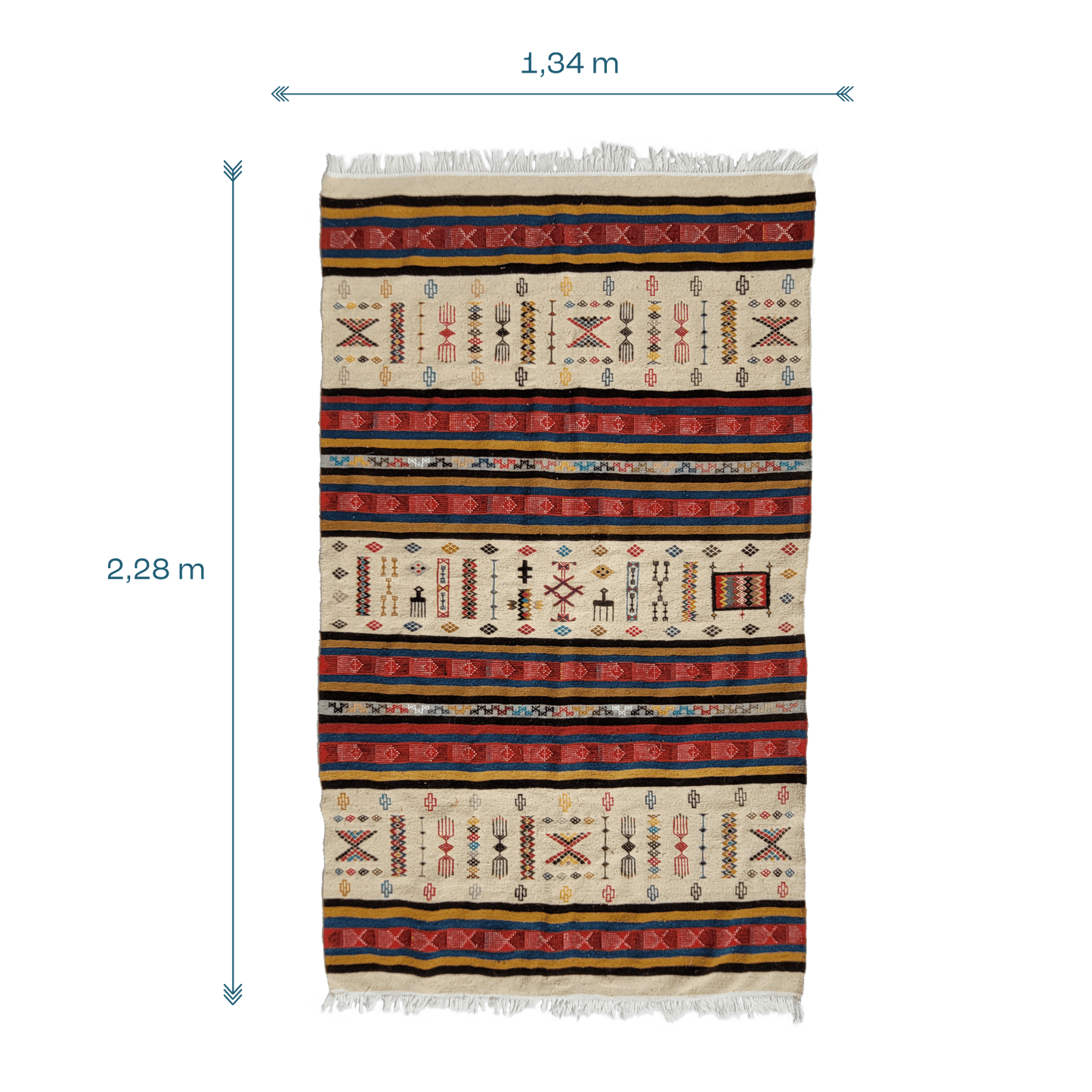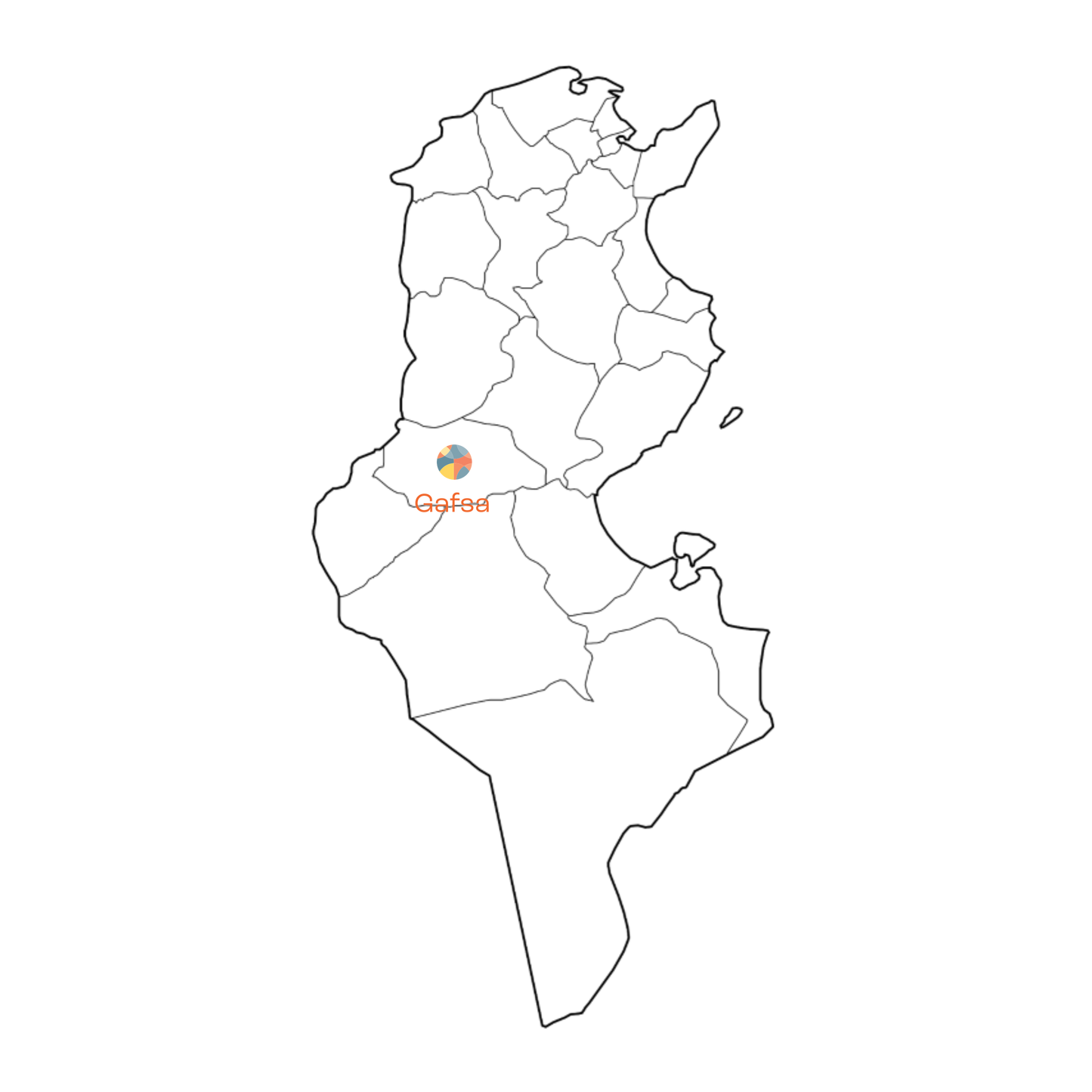 At Koom, we value fairness & transparency

The figure above shows an approximate breakdown of the costs making up for the price of this product. We distinguish 5 items:

- Artisan fares represent the share of artisans and/or structure (e.g. cooperative)
- Operational Costs comprise all expenses needed for the company to function and deliver the goods (logistics, banking and accounting, marketing)
- Artisan Support Provision to support initiatives helping Artisans sustain their craft
- Koom Margin allows us to be paid, invest in the company and expand our product offering
- VAT, which should need no introduction😅